Our baby boy is three! Where have the years gone? Our baby boy is not much of a baby anymore! (In fact, according to babycenter.com, he's passed through the toddler stage, and is now a preschooler).
At three years old, Silas' personality is much like it was at age two – loud, outgoing, loves to be the center of attention. He is also cheerful, quick to smile, and full of sweet things to say. Unlike his older brothers, he's pretty extroverted. He is social at school, but is also very observant and pays close attention. It's like he know he's one of the younger ones in class and understands the pecking order. Silas enjoys singing songs, riding his bike (fast), swimming, playing with cars, and doing anything with his big brothers. As we found out at his doctor's visit, Silas remains our littlest, skinniest boy. He is 30 lbs and 37.5″ tall.
Lately he's been doing this incredibly cute thing at bedtime, which I just have to share. He pretends he's watching one of Avery's basketball games. It first caught our attention one night when we heard a series of loud yells coming from his bedroom. We went upstairs expecting to find him in an argument with one of his brothers, but as we approached the door, the noises became clearer. Imagine a group of guys sitting on a couch watching football. When there's a good play, there's an eruption of deep-voiced "yeah's" or other unintelligible cheers, or in this case, "yeah Avery!" Silas must have had a very exciting game going on in his imagination, because this went on for some time, and has happened several nights since!
We celebrated Silas' birthday with a small group of friends. This little guy loves garbage, so we had a trash-themed party, which he thoroughly enjoyed! I think his favorite part was when we all sang to him and brought out his cupcake. He's been asking for a cupcake with a candle in it ever since, sings happy birthday frequently, and also keeps asking how many days until his next birthday. I think he had a good time!
In the morning we opened family presents

Our big gift to Silas was this BBQ

Posing for pictures

Our attempts at a pic of the three of them in their cute plaid shirts.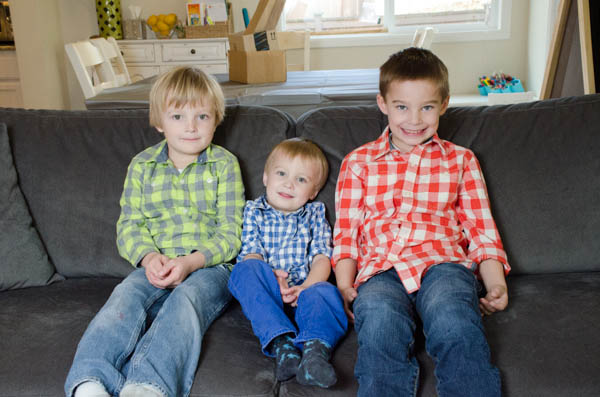 Cupcake colors: blue for recycle, green for compost, grey for garbage

Time for some games. In addition to "trashketball" and balloon bouncing, there was lots of bubble wrap to pop

Ethan loved the balloons

Avery with his up-cycled cardboard box/robot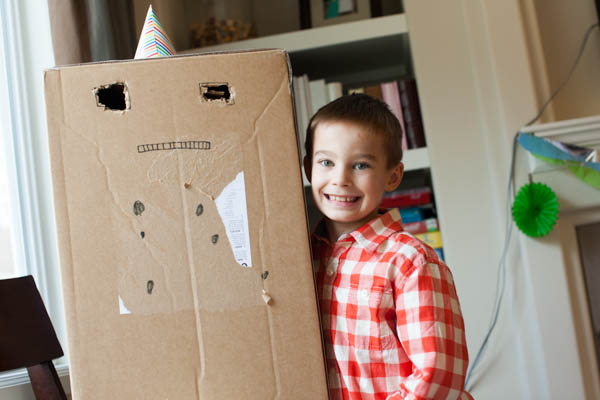 Time for cupcakes! Silas was thrilled! I love his expressions!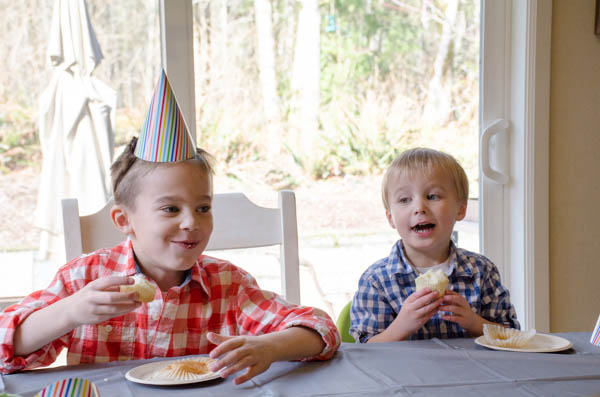 Party-goer Emmett helping clean up afterward

The following morning we let Silas have the last cupcake for breakfast. He asked for a candle in it again.