What?! As in years? Where has the time gone? I feel like he was just born last month (oh wait, that was Silas). But really, it's hard to believe that much time has passed already! At five, Avery is: a chatterbox, inquisitive, creative, imaginative, loves Legos, a little bossy, a devoted big brother, and as always, our darling little boy. He had his well child visit last week. He weighed in at 43 lbs (66%) and measured 44.75″ (84%).
We kept the party pretty small this year. A few close friends came and celebrated with us. Avery chose an Angry Birds theme, which ended up being a lot of fun to put together. I don't consider myself a very crafty person, but have to admit, the decorations made fun projects to do with Avery.
On his birthday we had the fabulous idea to get out the video camera and interview Avery. We're hoping to make a birthday tradition of it. Here's the Q&A:
Favorite thing to do outside? Play in the sandbox
What's it like to be five? When people ask how old you are, you don't have to bend your fingers to show them (just hold up your hand).
Where do you like to go? Hawaii, the pirate ship, and farms, the fair, the theater…
What do you want to be when you grow up? I will work in Daddy's office playing games on the computer. I will get my own office though.
What will you do for fun when you're older? Get big kid Legos.
What do you like? Camping. I will be a boyscout.
Favorite animal? Gazelle… and giraffe, zebra, hippo, elephant, aligator, dragon, coyote, dog, cat, kitten, ostriche…
Favorite thing at school? Crafts, but not writing crafts.
What are you most excited about being five? I want to get all kinds of Legos. I will build a whole city!
Favorite TV show? Scooby Doo
Favorite movie? Imaginext video
Favorite game? Cartoon tag, when a person tags you, you have to sit down criss cross apple sauce and think of a tv show like Obama, Scooby Doo, Jake & the Neverland Pirates, Sleeping Beauty… What's the Obama show? You know, where he does a big speech… (The State of the Union!)
We were going to call it quites, but then Avery came up with some more questions:
Favorite story? Thomas the Train books
Favorite thing about being a big brother? Holding Silas
Favorite fruit? Banana and pear… and lemon, orange, strawberry, blueberry, not raspberries
Favorite season? Summer
Favorite exercise? Riding bikes
Our handsome birthday boy!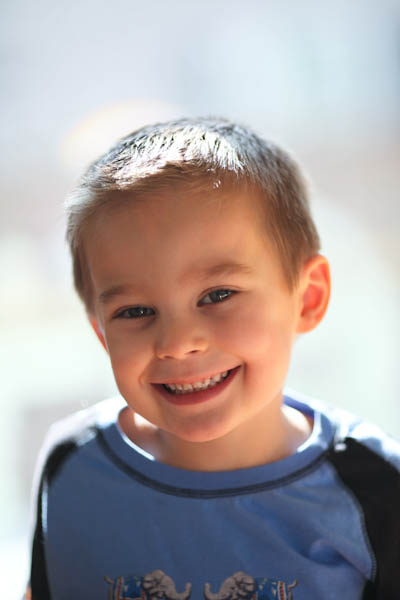 Opening his present from Mommy & Daddy


I'm this many!


The party theme: Angry Birds!


Auntie Ashleigh with Silas


Playing pin the beak on the angry bird


Kieron loved the game


Hmmmm, what to wish for…


Benjamin


Hayden


Brianna and Avery


Kieron took all the paper to the garbage


Homemade decorations – Avery loved this craft activity


Thank you for this idea, Pintrest!


Nana and Silas


Last night as a four-year-old


A week later we celebrated Daddy's birthday


The boys helped him blow out the candles on his traditional ice cream cake


Enjoying a beer at the local brewery