I am way behind on blogging (again)! April flew by way too fast. Here it is in a nutshell!
Here's Kieron walking across some dirt hills during Avery's t-ball practice. That's Mt. Si in the background. Beautiful clouds! Can't believe I took this with my iPhone.

Daddy's birthday – Surprise, ice cream cake!

Silas loves playing at the park with his big brothers.

Translation: "Dad, can we watch TV?"

Jonathan came home from work one day, and we were all in the playroom. He and I tried to relax on the bean bag when the boys started piling stuffed animals on us to "make us comfortable."

Silas the ham! When he sees a camera out, he claps and says "haaay!" Then he starts walking straight to the camera for a close up.

Loving on his Kieron while he checks out what's new at Williams-Sonoma

"No seriously, let me read my catalogue."

At our favorite Thai restaurant, Chantanee

Jonathan has his helicopter out in this pic. Kieron gets so nervous (he once had a close call with the helicopter, and it made quite an impression on him).

Three men in a tub. They love the shaving kit we got them.

This is Nina, our favorite animal at the Woodland Park Zoo. She is a great-grandmother, and every time we see her she is sitting, watching us through the glass like this. She looks so sweet and wise! That's Pete, the big patriarch lounging in the background.

Auntie Ashleigh and Nana

Mark and Ashe before their trek on the Pacific Crest Trail.

"Haaay! There's that camera again!"

The boys love to play in and around the big bed.

Uncle Scott, Aunt Manivanh, Nicole and Andrew came up for Lao New Year. Avery got to go to the Wat (temple) with them to celebrate.

We walked to the park one day. Here's Andrew and Avery holding hands.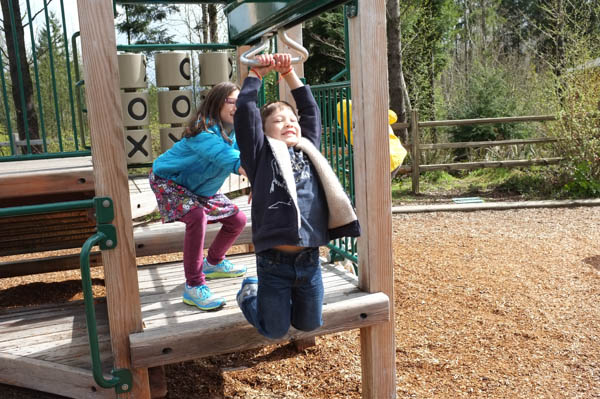 Silas' first time in the "car cart" at the grocery store. He loves it!

The boys got all gussied up one morning in tutus and mardi gras beads. Kieron didn't want to change out of them for quite a while.

Avery caught his first frog in our backyard. After hours of observation, Avery begrudgingly released him after dinner.

Here's Silas on his favorite toy

Reading Maurice Sendak's "In the Night Kitchen" with the boys

Jonathan took Silas hiking to the top of Little Si one morning

And here's Kieron on another hike